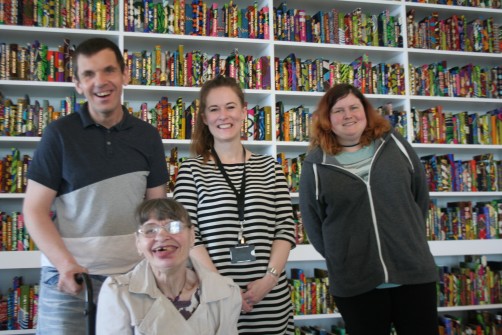 Turner Contemporary provided a very memorable day for three of the people that Optima Care supports. This will hopefully help to set a precedent for future community partnership projects. The gallery not only judged the organisation's Spring art competition but also presented winners' certificates to the top three.
"Local community collaborations, such as this one, are hugely important to the people we support, helping to boost self-esteem and general wellbeing. The majority of our individuals have complex needs and require a high level of support, which makes their achievements in entering artwork to our competition all the more impressive. It's fantastic that such a well-regarded organisation as Turner Contemporary recognises this and is willing to volunteer their support," says Denise Banks, Community Living Director at Optima Care.
"We were really impressed by the quality and creativity of the entries, especially the range of colours and materials used by the artists – it was difficult to pick the winner!" Molly Molloy, Learning Officer, Turner Contemporary.
Our three winners are as follows:
1st place, Eileen Parsons, Eastry Villas, Eastry
2nd place, Josie Calnan, Heron House, Herne Bay
3rd place, Mark Whitehead. Eastry Villas, Eastry
[See accompanying photo. From L-R: Mark Whitehead, Eileen Parsons, Molly Molloy, Josie Calnan]
All our runners-up received 'Highly Commended' certificates from Turner Contemporary.