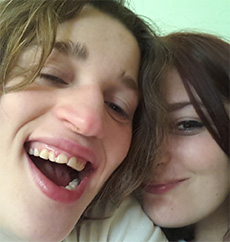 Everyone should be afforded the opportunity to make informed life choices and to safely explore and nurture their individual talents, interests and possibilities.
That's why Optima Care's Shine therapeutic model of care provides the framework for our Aspire young person transition service in Eastry. We offer…
A service designed, built and managed by senior individuals with a wealth of experience in children's and adults services: Julian Finnis and Joanne Neiles.
Experienced staff – our Transition Team Leaders and Coordinators – trained in person-centred planning, effective communication and behavior management strategies, all of whom will receive ongoing personalised development in line with their needs and the needs of the people we support.
Continuation of Education, Health & Care (EHC) plans.
Continuity in communication systems and tools already practised by an individual. We promote a total communication environment, have strong links with schools, Speech & Language Therapists and advocacy services.
Life skills training and development.
Person-centred transition programmes to help individuals move on to Supported Living post-25, either with Optima Care in partnership with a Registered Social Landlord or another provider.
Where to find us