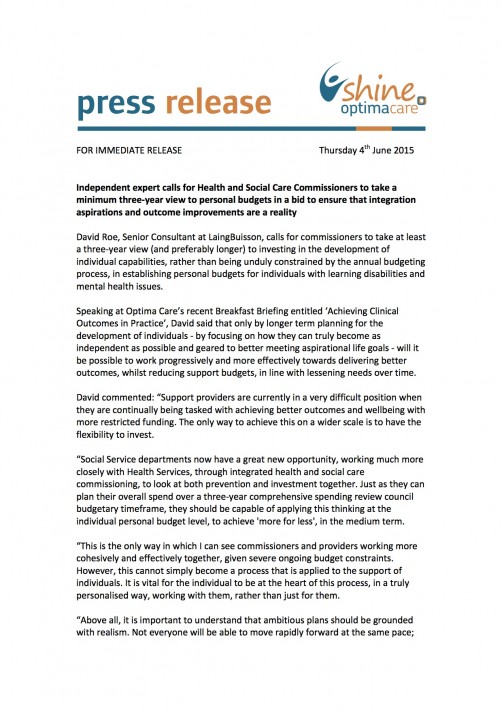 Independent expert calls for Health and Social Care Commissioners to take a minimum three-year view to personal budgets in a bid to ensure that integration aspirations and outcome improvements are a reality
David Roe, Senior Consultant at LaingBuisson, calls for commissioners to take at least a three-year view (and preferably longer) to investing in the development of individual capabilities, rather than being unduly constrained by the annual budgeting process, in establishing personal budgets for individuals with learning disabilities and mental health issues.
Speaking at Optima Care's recent Breakfast Briefing entitled 'Achieving Clinical Outcomes in Practice', David said that only by longer term planning for the development of individuals – by focusing on how they can truly become as independent as possible and geared to better meeting aspirational life goals – will it be possible to work progressively and more effectively towards delivering better outcomes, whilst reducing support budgets, in line with lessening needs over time.
David commented: "Support providers are currently in a very difficult position when they are continually being tasked with achieving better outcomes and wellbeing with more restricted funding. The only way to achieve this on a wider scale is to have the flexibility to invest.
"Social Service departments now have a great new opportunity, working much more closely with Health Services, through integrated health and social care commissioning, to look at both prevention and investment together. Just as they can plan their overall spend over a three-year comprehensive spending review council budgetary timeframe, they should be capable of applying this thinking at the individual personal budget level, to achieve 'more for less', in the medium term.
"This is the only way in which I can see commissioners and providers working more cohesively and effectively together, given severe ongoing budget constraints. However, this cannot simply become a process that is applied to the support of individuals. It is vital for the individual to be at the heart of this process, in a truly personalised way, working with them, rather than just for them.
"Above all, it is important to understand that ambitious plans should be grounded with realism. Not everyone will be able to move rapidly forward at the same pace; there will still be real limits for many, necessitating close monitoring of achievement against goals, and trying new approaches and techniques, in supporting people, if sustainable savings are to be made."
Also speaking at Optima Care's event was the organisation's Consultant Clinical Psychologist Dr Heleen Malherbe who looked at the dilemmas faced by providers when aiming for clinical outcomes where individuals with multiple diagnoses are concerned.
Dr Malherbe highlighted the benefits of the Emotional Problem Scales as an outcome measure and announced that this approach, which has been used with success at Optima Care's step-down setting The Chilterns, will be rolled out across all of the organisation's services. "The Emotional Problem Scales allow for the measurement of behaviour every 6 months with the focus on the 30 days preceding the assessment. It also includes the opportunity for self-reported outcomes.
"The results are interpreted by a psychologist and then discussed with the staff team involved to gain their insights and interpretation. It's a useful, well-validated and effective 360 degree tool that will allow for measurable data comparisons over time," adds Dr Malherbe.
Richard McKenzie, Chief Operating Officer at Optima Care, also announced the launch of the provider's new therapeutic model of care Shine. Richard commented: "In line with all the recent and current industry changes – the latest NICE guidelines, the NHS 5-year Forward View, the Care Act and Kent Accommodation Strategy – we wanted to design a model of therapeutic care that helps meet all requirements, that is well supported by validated outcomes data, yet is simple to understand by all – staff, the people we support and their families – and, over and above everything – puts the individual at the centre of everything we do and helps ensure that personal goals are met."
For more information, contact:
Suzanne Clarkson
Marketing & PR Lead
Tel: 07799 873 586
Email: Suzanne@optimacare.co.uk
Notes to Editors:
Optima Care is a specialist health and social care provider. We deliver a range of services – from school & college transitions and supported living to high acuity community living – for individuals with severe / enduring learning disabilities and complex needs, including mental health issues.
Our aim is to ensure that all of the people we support have the opportunity to participate in life skills development and social experiences that will enhance wellbeing, opportunities, quality of life and eventual transition towards more independent living.
This is achieved via Optima Care's unique Shine therapeutic model of care, which was designed to ensure an easy-to-follow and consistent, outcomes-focused, framework underpins the support provided across all our specialist services.